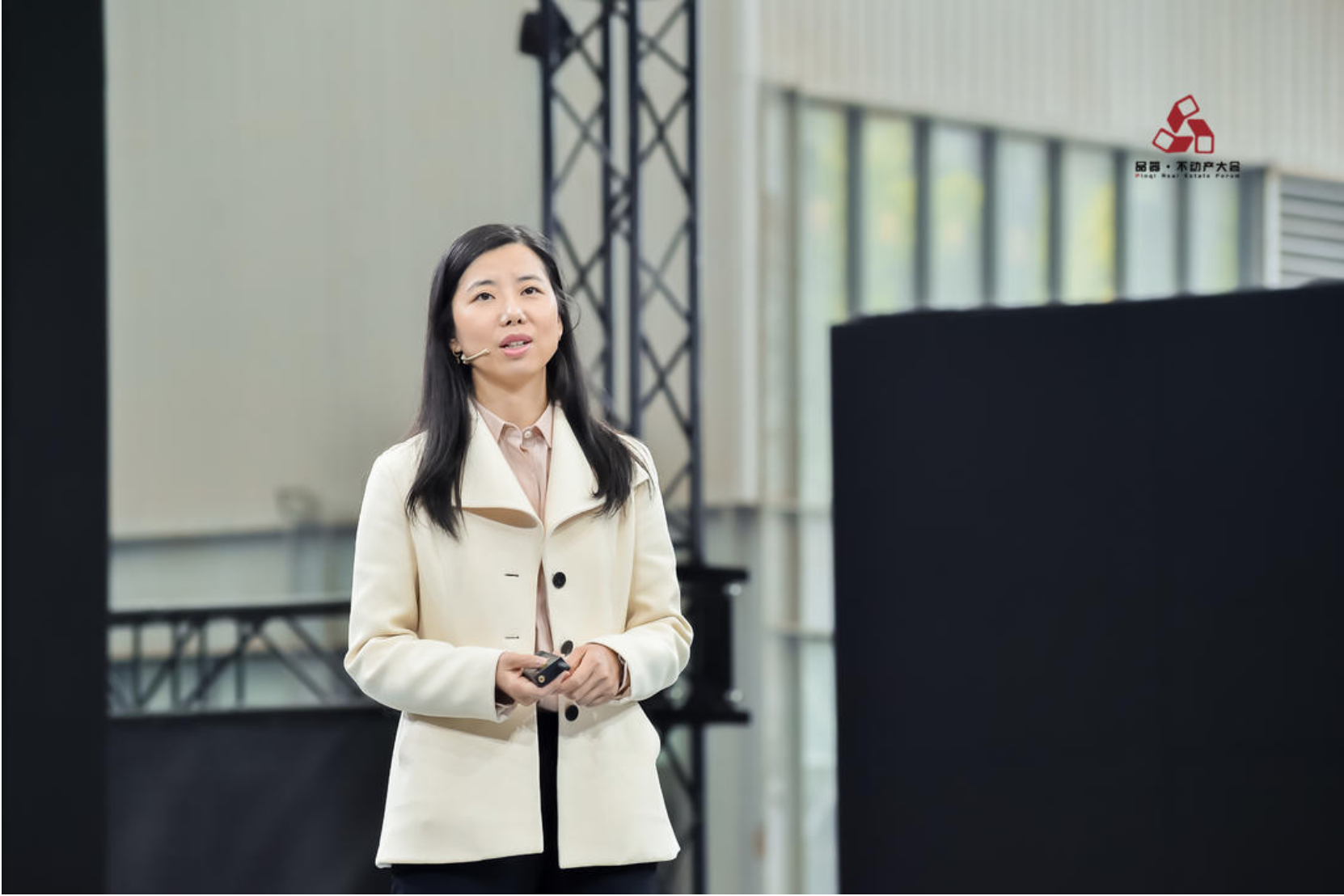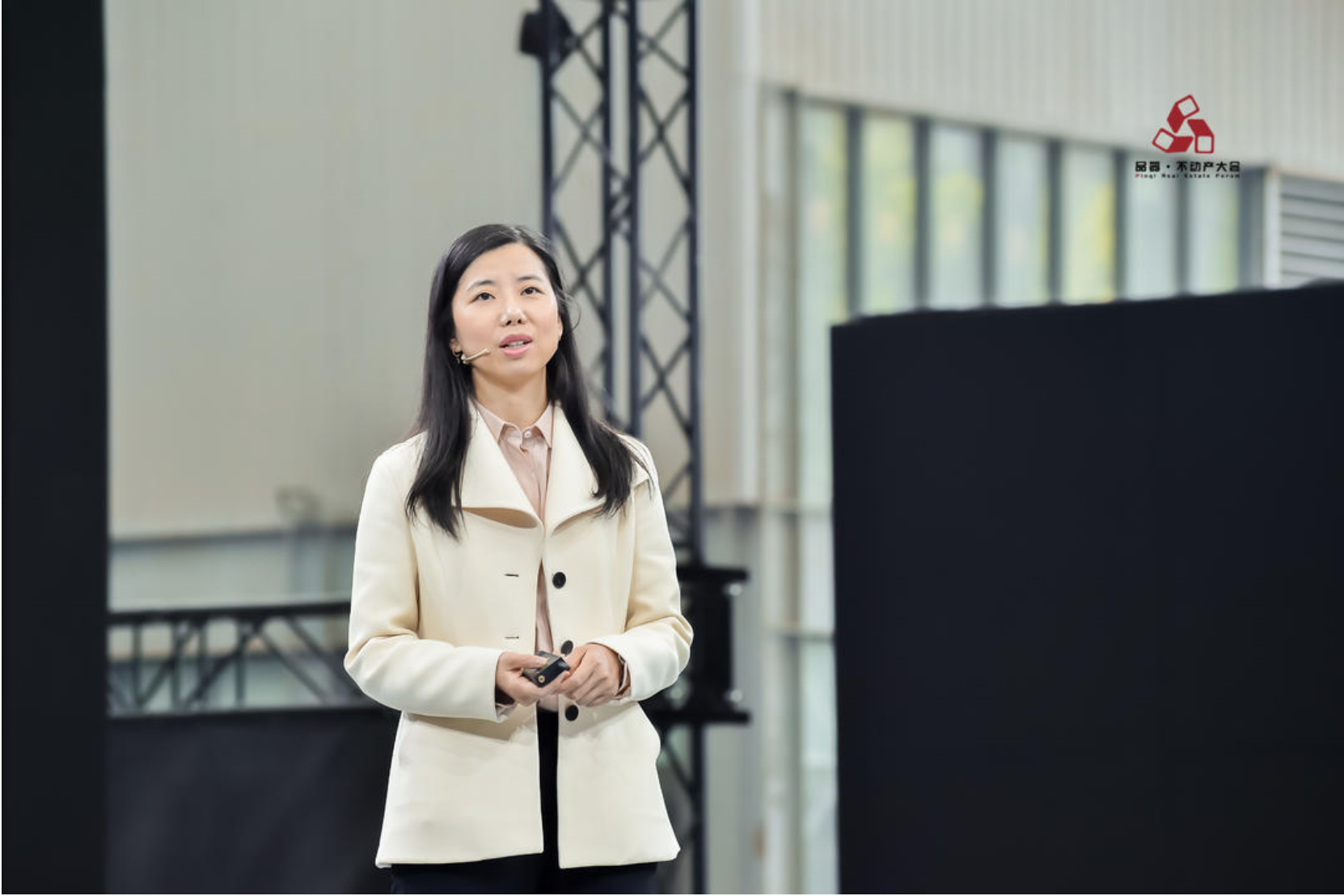 Speaker:Selina Zheng
On April 15th and 16th, the first Pinqi Real Estate Forum was held in China Ship Pavilion of Shanghai World Expo. The guests discussed the post-development era and expressed their opinions on how to enhance value through operation, management and scientific and technological innovation, and how to develop less real estate with higher-quality.
Hello, I'm Selina Zheng. Today, I would like to share with you some knowledge and practice of DCL in the field of distressed asset investment up from 2015 till now.

Urban property inventory renovation and old estate renewal are hot trends in real estate investment at present. Actually, they are born from urban ecological changes and industry structural adjustment, resulting in the operation improvements of various types of properties.

01 What are the advantages of acquiring assets in distressed investment?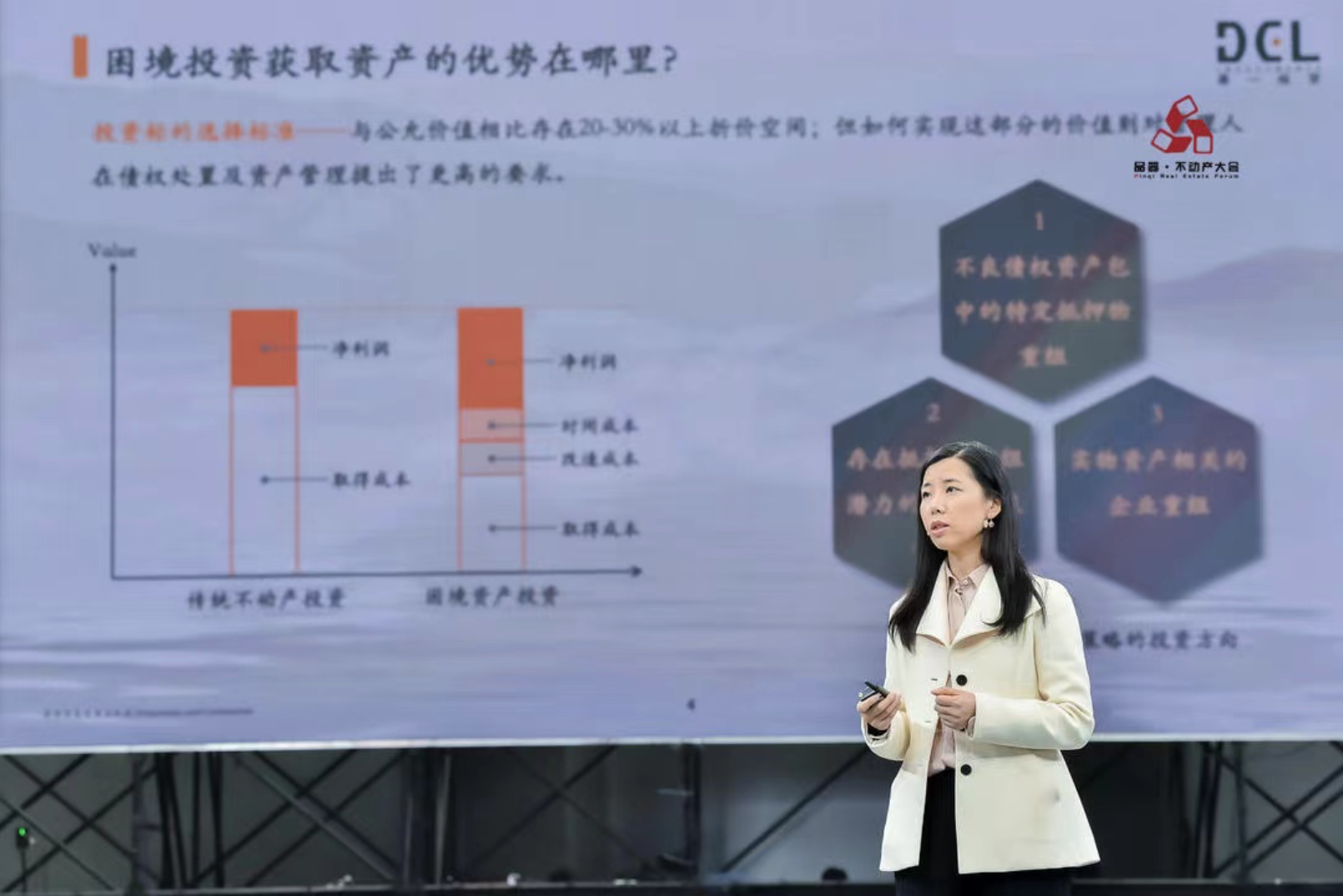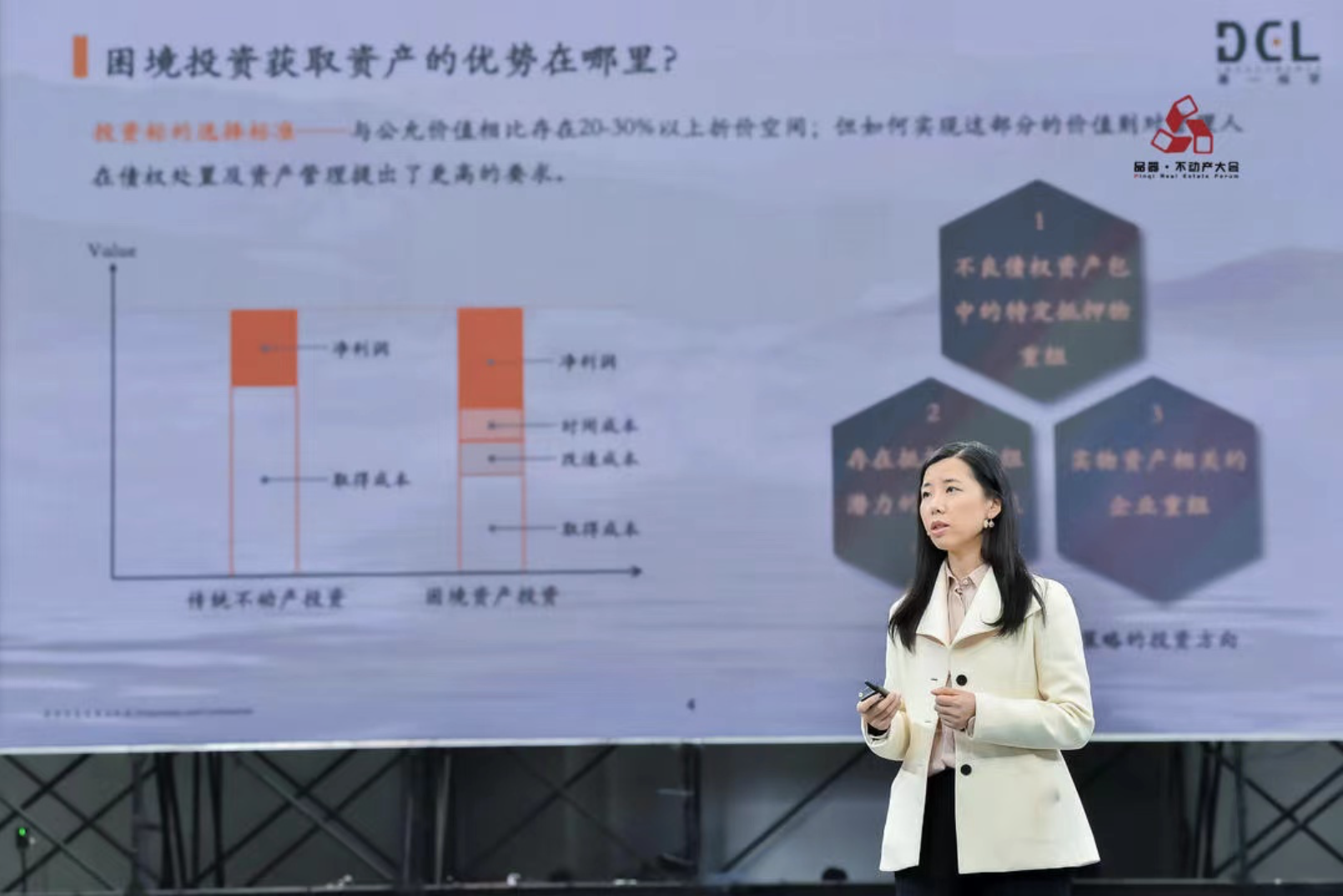 Compared with the traditional property assets, the net profit of distressed ones is relatively higher due to the big discount. Therefore, for DCL and other institutions alike, the most important thing is how to get the biggest discount and finally achieve exit and realization.
Of course, one thing is that we have invested a large amount of money at the beginning; another thing is that it does take some time to realize the exit of the deal, and these are the two challenges we face in distressed asset investment.
Since its preparation in 2014 and establishment in 2015, DCL has invested more than 13 billion RMB and recovered over 11 billion RMB. At present, we focused on the distressed assets in core regions and cities including Beijing, Shanghai, Guangzhou, Shenzhen, etc., especially the real assets.
02 There are mainly three ways to acquire distressed assets.
First, reorganize the specific collateral of a non-performing loan portfolio. An enterprise will take various properties as the collateral of its bank loans. When it falls into a poor operation, banks may package and transfer the loans in batches in the market, which gives the investors a chance to obtain the corresponding real estate by buying the NPL portfolio.
Second, restructure the collateral of a single non-performing loan. Take DCL as an example. When we think a property is valuable, we will try to buy the loan attached to it, which is a very important way for us to acquire assets. And it is in this way that we have obtained a large number of real estates located in core cities such as Shanghai and Beijing.
Third, reorganize the equities. When a large quantity of real estate enterprises encounters temperate operational difficulties, we are enabled to reorganize the equities of these companies as well as acquiring the real estates owned by them.
03 DCL has created diversified channels to obtain assets.
In the past five years, DCL has formed diversified channels to acquire assets. We frequently trade with the Big-four AMCs, trust companies and non-bank financial institutions to obtain the properties. In addition, properties held by enterprises can be sold and transferred directly. Therefore, there is a rich supply chain of the distressed real estate.
04 How to dispose of and operate distressed assets.
There is still a big difference between the disposal and operation of distressed assets and that of normal ones. The first problem is converting loan to property. After purchasing a bunch of loans, we need to transform the mortgage of loan into property right appropriately so as to obtain the complete property right.
At the same time, after acquiring the property right, how to change a 30-point asset into a 60-point one and further operate it into 80-point asset is quite a technique, which we would like to compare to the work of a craftsman.
In addition, in the downstream of distressed assets investment, we have a lot of partners, including various types of asset operators, foreign funds, domestic investment platforms, as well as many institutions who purchase our assets for their own use.
05 There are three core competencies in transforming the creditor's right to property right and then to high-quality one

The first is judicial disposal ability. We must solve the dispute of creditor's rights and debts of a large number of property rights from bad loans or defaulting equities. And how to address the practical judicial problems is a big test for many investors. The second is the asset operation capability. After acquiring the property rights, we should find a way to cooperate with different operators to revitalize these assets. The third is the ability of financing, that is, how to realize the efficient circulation of these assets and our funds.
Let me give you an example. In the past, we have invested more than 13 billion RMB, so how many assets do we purchase with the capital? The answer is that there are about 3,000 assets at the bottom, some of which are creditor's rights, equity and others are property rights.
Therefore, the ability of financing is of great significance for a large-scale distressed asset investment firm. In the process of buying and selling, we should find suitable buyers for different types of assets at various stages.
06 Improving the value of distressed assets is the biggest challenge for asset holders.

For DCL, if the sporadic property rights of an individual building can be collected, the value of it will be greatly improved.
For example, in Zhongguancun, Beijing, we can find very few individual buildings which have never been sold separately. Compared with unsold ones, the building may have a 30%-40% discount if a large number of its offices have been sold even with good location and great quality.
And what we are doing now is to collect the property rights of assets with relatively good location and quality. In this process, some can be directly purchased; while others are mortgaged in the bank. After the bank gets its creditor's right, we will collect the property right by paying debts.
In addition, it is an important way to enhance the value of distressed assets by actively obtaining the assets through NPL portfolios.
Here, I would like to share with you one of our great advantages, that is, the experienced and in-house asset management team. 70% of our members come from top law schools or have been engaged in legal business for a long time, and 30% of them have been directly engaged in property asset management in the past. In addition, they have an average of more than 13 years of experience and deep participation in the project.
Another fact is the team needs to accumulate work experience for a long time in distressed assets investment, so we often joke that we are carpenters growing with time and efforts bit by bit. Usually only talents with more than 10 years' experience in investment, disposal and operation of distressed assets can participate in the acquisition and disposal of major projects independently, so this industry really puts a high requirement for the employees.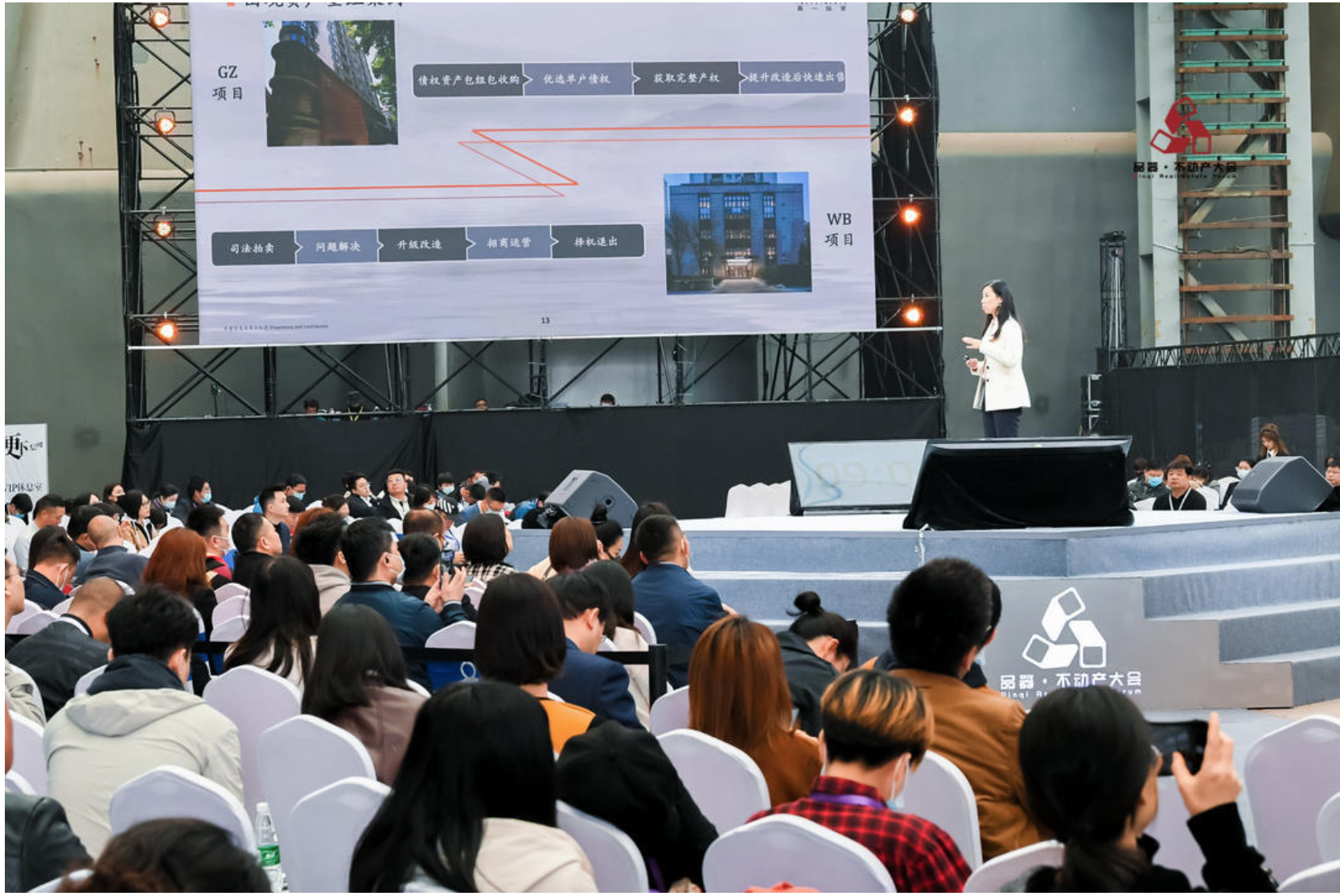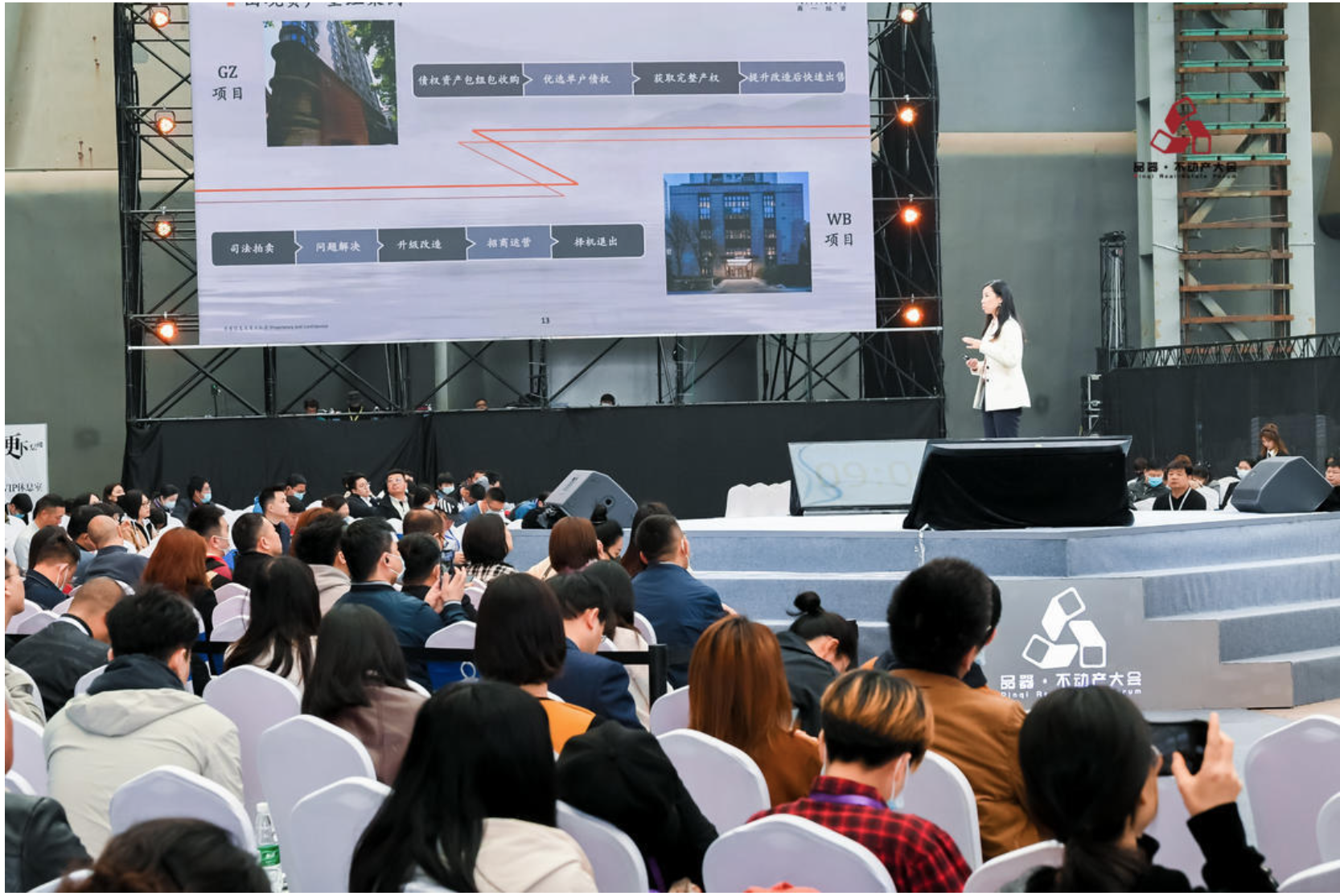 Next, I would like to share with you a typical case of us.
We sold a property in the former French Concession in Shanghai to a well-known foreign fund, which was acquired by us in 2017. At that time, in order to obtain a batch of traditional and distinctive properties in Shanghai, we communicated with banks and successfully bought the NPL portfolio.
It included a bulk of assets in the core area of the city with less than 5,000 square meters, which can be divided into dispersive property rights.
And we were very optimistic about this kind of assets in 2016 and 2017, because we believe that when emerging industries in the next round begin to develop, the requirements for office would change greatly. For example, some new unicorn companies seek for personalized offices. Besides, the flexibility of renting and withdrawing will also be very attractive.
Actually, we are now in contact with a lot of unicorn enterprises, which do not take the traditional Grade A office buildings as their first office choices, nor do they pick the industrial parks far away from the core areas of cities. Therefore, in the core office areas of Shanghai, Beijing and other cities, those property assets with independent property rights, not particularly large in scale do attract the attention of some companies, who are willing to pay a premium to buy them or even a higher rent to lease them.
Since 2017, we have acquired this type of assets in batches, obtained the property rights by paying debts, and also collected the dispersive property rights to further enhance the asset value.
At present, we hold a large number of such properties in the core area of the cities, forming a healthy and sustainable ecosystem.
In a word, in recent years, more and more people have participated in this industry, and the ecosystem has become more and more comprehensive. In face of the emerging opportunities and challenges in the market, if we can choose to be a craftsman to concentrate on doing fine work in stubborn ways, we will have the opportunity to overcome short-term fluctuations and gain hefty profits.